BIG MAMA MONTSE´s BIO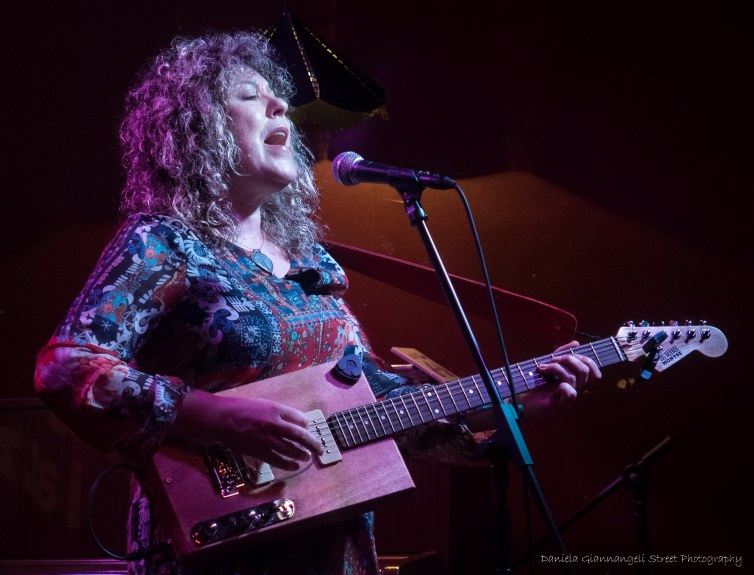 Photo: Daniela Gianangeli
Montserrat Pratdesaba was born at St Quirze de Besora (Catalonia-Spain) in 1963, and was nicknamed Big Mama at Barcelona's legendary "La Cova del Drac" club where her career and love for the Blues began. With only 6 years she studied piano and at age 12 she started with the guitar. Big Mama Montse is telecom engineer specialist in image and sound and has been working for 6 years in the Catalan Television (TV3) but she decided to leave that job to pursue music professionally. Since then she has been strongly committed to the Blues, singing in numerous concerts and festivals. She has coproduced 20 records and a long list of collaborations on albums in which she has participated. In addition, Big Mama's career has been related to educational work, by offering countless concerts to initiate children and adults in the Blues. She has been a musical journalist of the French magazine Blues & Co betweem 2008-16. Her artistry has also had international impact, as Putumayo Records included "No way out", a song by Big Mama & Victor Uris, for the compilation "Blues Around The World" which also featured international artists such as Taj Mahal, Bonnie Raitt, Maria Muldaur, Eric Bibb, Habib Koitié, etc. She is the President of the Barcelona Blues Society, Vicepresident of the Association of Professional Musicians from Catalunya - Musicat and member of the Board of the AIE (Artistas/Intérpretes y Ejecutantes de España) and of the UMP (Unión de Músicos Profesionales). Between 2013-16 she's been one of the 12 members of the Board of the European Blues Union. On 2013, Montserrat Pratdesaba celebrated her 25th Anniversary as Big Mama on tour with the band Taller de Músics All Stars and in 2018 she commemorated 3 Decades in the Blues with her 30's Band. On 2015 she receives the award "Jazzterrassaman" by Terrassa International Jazz Festival. She has also received the Capibola Blues Award 2010 by Barcelona Blues Festival, an ukelele for her 25th Anniversary as Big Mama by Barcelona Blues Society, Honorific Member by Rubí Blues Society on 2015 and Girona Blues Society on 2016, Artist BluesCat 2007, "Dones d´Enllaç" Award 2008, "Best Jazz Album1994" by Radio4, Finalist as "Best Jazz Album" by SGAE and AIE at III Premios de la Música, Finalist of the Bands Challenge by Getxo International Jazz Festival 1991, La Nota de Santa Cecilia 2019 Award by the Association Musicat, etc.

She has participated in numerous concerts and Jazz and Blues Festivals such as Marciac (95), Bayonne (95), Monségur (95), San Sebastián (95-2000), Lisieux (91), Orange (95), Mégève (95), Getxo (91), Santiago de Compostela (89-91-95-2003), Córdoba (94), Santander (95), Cerdanyola (90-91-92-98-2001-07-13), Barcelona (92-94-2001-02-06-09-12-13-14-15-16-17-18), Terrassa (89-90-93-95-96-2000-07-08-09-10-13-15-19-20-21), Madrid (San Juan Evangelista) (91), Mantes-la-Jolie (2002-05), Chaumont (2003), Les Escaldes-Engordany (2002-03), Le Pouliguen (2004), Cognac (2004), Condat sur Vienne (2005), Val d´Oise (2006), Roses (93-2000-04-07-08), Thouars (2010-12), Sem (2012), Sofia (2013), Cahors (2013), Frederikshavn (2013), Trieux Tonic Blues (2014), Guitare en Save (2014), Clarijazz (2014), Getxo (2014), Notodden (2014), Chelyabinsk (2015-18-19), Benicàssim (2015), Blavoevgrad (2016), Eutin (2016), Åmåls (2016), Hondarribia (2016-18), Burlada (2016), Tolosa (2004-05-13-17), Antequera (2017), Salamanca (2017), Alfàs del Pi (2021), Corralejo (2021), etc.
Her discography includes:

BIG MAMA MONTSE & 30's BAND "PARTY LIFE" (2018)
BIG MAMA MONTSE .BAND "SEED OF LOVE" (2017)
BIG MAMA MONTSE & SISTER MARION "JUKE JOINT SESSIONS" (2016)
BIG MAMA MONTSE & SISTER MARION "REAL WOMEN BLUES" (2014)
BIG MAMA & ORIGINAL JAZZ ORQUESTRA DEL TALLER THE MUSICS ALL STARS "BLUESIN' THE JAZZ" (2013)

BIG MAMA
"25th ANNIVERSARY"
& TALLER THE MUSICS ALL STARS (2013)

BIG MAMA & THE CRAZY BLUES BAND
BLUES ALL OVER
(2012)

BIG MAMA
BLUES ROOTED
(2005)

BIG MAMA & JOAN PAU CUMELLAS
EN EL NOM DE TOTS
(2003)

BIG MAMA & JOAN PAU CUMELLAS
STIR THE POT
(2001)

BIG MAMA with JOAN PAU CUMELLAS & MIGUEL TALAVERA
TABLEAU DE BLUES
(2000)

BIG MAMA ELECTRIC BAND
SER O NO SER
(1998)

BIG MAMA & VÍCTOR URIS
EL BLUES DE L'OMBRA BLAVA
(1996)

BIG MAMA with VÍCTOR URIS & AMADEU CASAS
EL BLUES DE LA INFLACIÓ
(1994)

BIG MAMA AND THE BLUES MESSENGERS (live at la Boîte) (1993)

BIG MAMA AND THE BLUES MESSENGERS
BLUES, BLUES, BLUES!
(recorded in 1992 but published in 1995)

BLUES REUNION '90
(1990)
Her most outstanding discographic collaborations are:


L´HARMÒNICA COIXA BLUES BAND
WALKING BLUES
(1991)
LA VELLA DIXIELAND with BIG MAMA and JOSEP Mª FARRÀS RAGTIME (1995)
FUEGO LET´S PLAY THE BLUES (1994)
LOTI LEWIS ECHOES OF HEARTBEATS (1997)
CIUTADANES PEL CANVI (1999)
LES CANÇONS DE TEMPS ERA TEMPS (2000)
NEW ORLEANS BLUE STOMPERS HELLO SATCHMO!-THE LOUIS ARMSTRONG MUSICAL STORY (2001)
LA LOCOMOTORA NEGRA SWING ALS 30 ANYS (2001)
VÍCTOR URIS DE LADO A LADO (2002)
AMADEU CASAS STROLLIN´ BAND (2005)
BLUES AROUND THE WORLD - PUTUMAYO RECORDS (2006)
ESCLAT GOSPEL SINGERS FROM ROOTS TO HEAVEN (2008)
PACTANDO CON EL DIABLO - HOMENAJE A ROBERT JOHNSON (2011)
LA LOCOMOTORA NEGRA & FRIENDS THE JAZZ ROOM/COVA DEL DRAC SESSIONS (2011)
ÑACO GOÑI BLUES CON LOS COLEGAS VOL. II (2012)
THE DUMOUSTIER STOMPERS 1989-2009 ON STAGE (2012)
GUMBO JASS BAND 15 ANYS (2013)